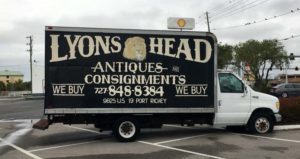 Q: Do you buy items from the public?
A: Yes – depending on the specifics of the items, such as age, condition, saleability, patterns, and rarity of the item.  Call the shop in advance to insure the buyer is in to discuss your item. He will make a cash offer on items he wishes to purchase.
Q: Do you take items for consignment?
A: No.
Q: Are you open today?
A: We are open 7 days a week from 10AM to 6PM.
We are closed 3 days a year only… Christmas Day, Thanksgiving day and Easter Sunday.
Q: Is the buyer there today?
A: The buyer is usually here on Mondays, Wednesday, Friday & Saturday from 10:00 AM to 4:00 PM, But there are times he is out of the store, so it is best to call before coming.
Q: How much does it cost to rent a space?
A: Prices range depending on sq ft or case size and location as well. Again, come in and discuss specifics, look at our layout and merchandise presentation. The staff will be happy to show you any available space.
The rent is on a month to month basis with additional percentage of sales. The first and last months rent is required at the time of rental.
Q: My grandmother has a blue bowl with white dots (or whatever). How much is it worth?
A: We never evaluate items unseen. In fairness to both you and us we MUST see each piece in question but are happy to give you the benefit of our expertise at no cost when you bring in your item.
We do not give written appraisals required for insurance claims and/or probate court.
Q: Do you ship out of state?
A: As a rule we do not pack or ship but we often sell to out of state buyers. We can recommend moving companies who will pickup your items here and bring them to your location for a per-arranged cost.
Q: Do you offer lay-a-way?
A: No.
Q: Do you take credit/debit cards?
A: Yes – We accept Visa, Master Card and Discover. We do not accept American Express.
Q: Do you deliver locally?
A: Absolutely. Our price for delivery is based on mileage to your destination. The price remains the same regardless of the number of pieces you are having delivered.